Making a road trip in Iceland is on everyone's bucket list these days. We were lucky enough to visit this incredible country multiple times and explored some of the most beautiful places in Iceland. From amazing geothermal pools, black sanded beaches to stunning waterfalls, and inspiring landscapes. There aren't many countries where you can see all those incredible places on the same day. If you are looking for inspiration for your Iceland itinerary and you want to know which places you definitely need to see? Here are our top 10 most beautiful places to see in Iceland.
Read also: Iceland Route: the best road trip itinerary for 10 days
When is the best time to visit Iceland?
The best time to visit Iceland depends on what you want to see and do in Iceland. During the winter months, chances are higher to see the Northern Lights while in the summer months days are long and the landscapes are turning green and lush.
Winter: December to February
During this period, temperatures are extremely cold and roads could be dangerous or even closed. The days are short but you'll have spectacular sunrises and more chances to see to Northern Lights.
Read also: How to capture the Northern Lights in 8 easy steps
Summer: June to September
Summer is a great period to visit the most beautiful places in Iceland. Temperatures are pleasant and landscapes are green which makes it the perfect moment to visit all the best things to do in Iceland during your road trip. The days are long and in June they have a day called Midnight Sun, which practically means that it will not be dark for almost 24 hours.
The 10 most beautiful places in Iceland
1. The Blue Lagoon
If you are searching for a magical experience, this is the place you need to see! With its beautiful milky blue waters and surroundings, The Blue Lagoon is one of National Geographic's 25 wonders of the world. Talk about a dreamy place! Actually, it's a man-made lagoon filled with geothermal waters located in a lava field. The temperature is around 38 degrees Celsius and it's also known for its healing effects on skin aging and psoriasis. Since the lagoon is only a 20-minute drive away from Keflavik International Aiport or 40 minutes from Reykjavik, it's the perfect spot to start or end of your road trip with.
Tip: go for a Blue Lagoon ticket with sunset. We guarantee you a 200% unforgettable experience!
BOOK
Pre-booking is required, so be sure to buy your tickets for Blue Lagoon in advance here
WHERE TO STAY NEAR THE BLUE LAGOON
The Northern Light Inn (2 km from The Blue Lagoon)
2. The Golden Circle
The Golden Circle is the most popular route in Iceland and takes you to one of the most amazing places you need to see. It's a circular route that starts from Reykjavik (only 40 minutes away), covering about three hundred kilometers into the central part of the country. Whether if you have one day or one week, The Golden Circle is a must-see for everyone. It's open all year round and has three main stops: Geysir, Gullfoss waterfall, and Thingvellir National Park.
BOOK
Many tours start from Reykjavik to the Golden Circle, check the best options here
WHERE TO STAY NEAR THE GOLDEN CIRCLE
Litli Geysir Hotel (300m from Geysir & 1h50 from Thingvellir National Park)
3. Seljalandsfoss
Probably one of the best things to do in Iceland is chasing waterfalls as there are so many. And the coolest Icelandic waterfall is Seljalandsfoss where you can walk behind. It's also the most photographed waterfall and if you are driving the Ring Road you literally can't miss it. From the parking lot, it's a super short walk to the waterfall and there is a path that leads you behind the waterfall. But do bring a raincoat with you as you will get soaking wet. Seljalandsfoss is truly a must-see waterfall, especially with the sunset, but don't forget to visit the hidden waterfall next to it too.
LOCATION
Seljalandsfoss
WHERE TO STAY NEAR SELJALANDSFOSS
The Barn (50-minute drive from Seljalandsfoss)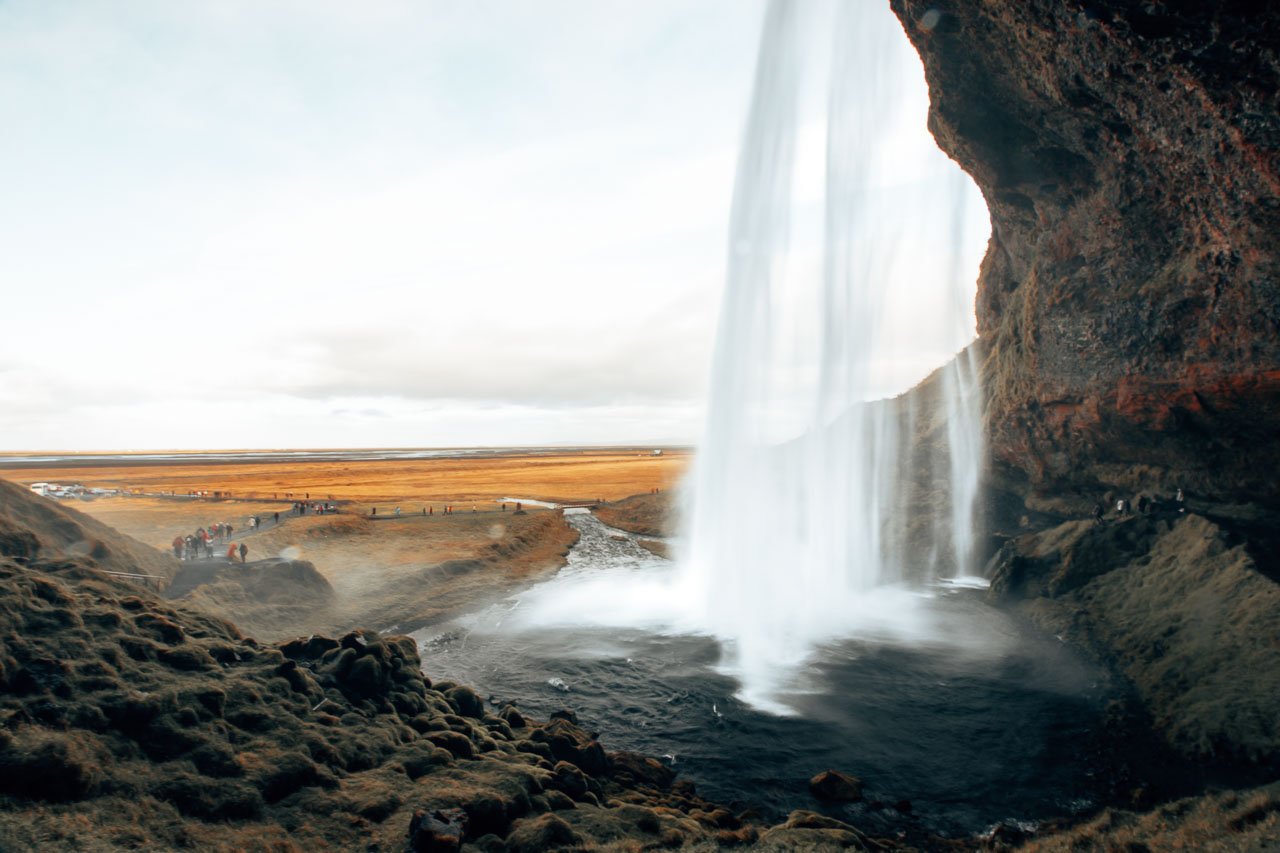 4. Sólheimasandur Plane Wreck
We're sure you have seen photos of this plane wreck before and if you like surreal-looking places to photograph, then this place is something for you. Iceland is known as the land of fire and ice and is also known for its mystery. The plane wreck on Sólheimasandur is such a mysterious place. The reason for the crash is not known. But the good news: everyone who was in the plane survived! The walk from the parking area to the wreck takes about 1h 30 return.
LOCATION
sólheimasandur
WHERE TO STAY NEAR SOLHEIMASANDUR
Hotel Vík í Mýrdal (20-minute drive from Vik)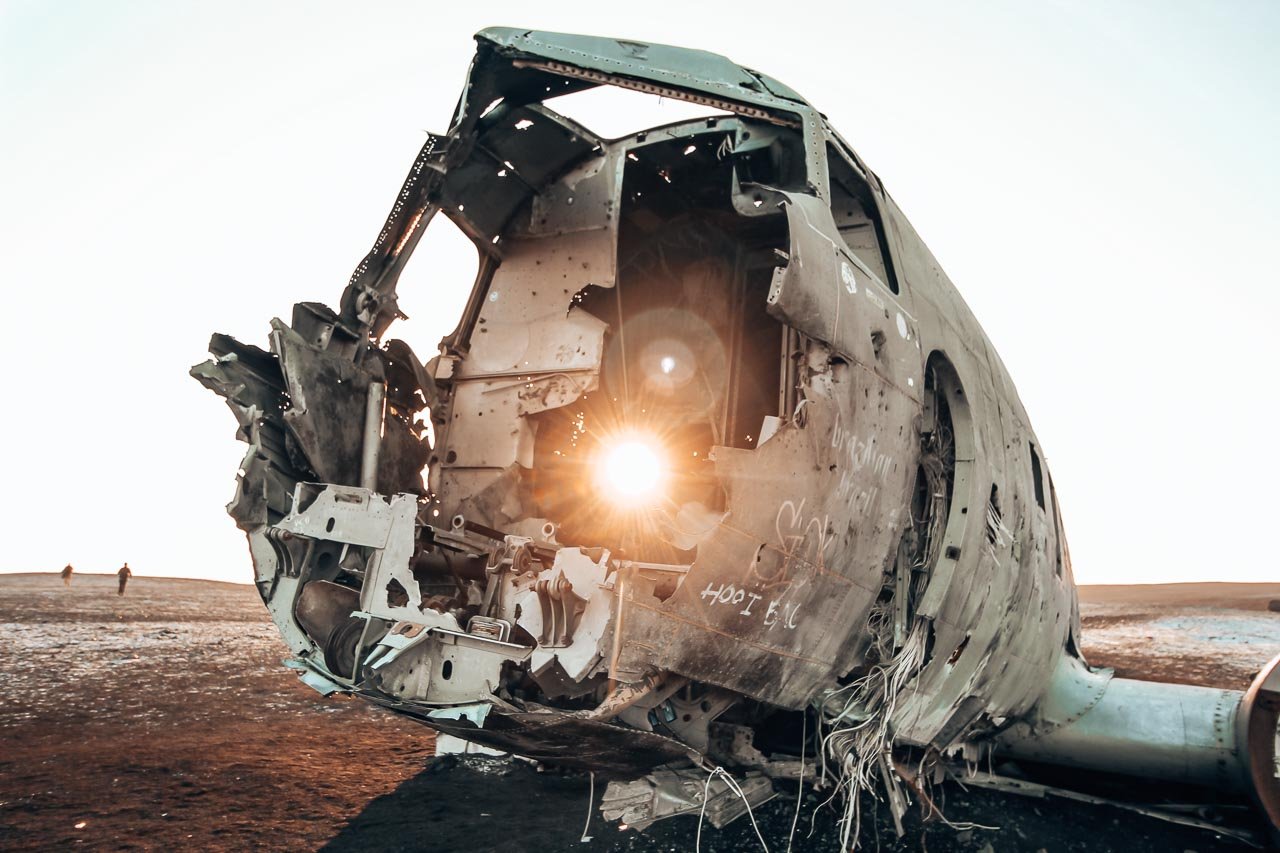 5. Skaftafell National Park
Skaftafell National Park is located in the southern part of Iceland at the roots of Vatnajökull, the biggest glacier in Europe. It's difficult to describe the beauty of the area in words, but the scenery in Skaftafell is like no other. It's a paradise for hikers and the park operates all year round. During summer there are plenty of trails which you can choose from and during winter you can join the famous ice cave tours. The Svartifoss waterfall, one of the most incredible waterfalls of Iceland is located in Skaftafell National Park.
LOCATION
Skaftafell National Park
WHERE TO STAY NEAR SKAFTAFELL NATIONAL PARK
Fosshotel Nupar (40-minute drive from Skaftafell National Park)
6. Jökulsárlón Glacier Lagoon
Jökulsárlón Glacier Lagoon is a large glacial lake with huge ice blocks floating on the lagoon and has become Iceland's most popular attractions due to its stunning beauty. This photographer's paradise is easy to find with its location along the Ring Road. Seals can be seen swimming in the lagoon or relaxing on top of a floating iceberg. And if you want, you can hop on a zodiac boat tour to sail among the icebergs in the picturesque scenery.
LOCATION
Jökulsárlón Glacier Lagoon
WHERE TO STAY NEAR JOKULSARLON
Hrafnavellir Guest House (1h20-minute drive from Jökulsárlón Glacier Lagoon)
7. Stokksness Beach, Vestrahorn
A black beach with huge bushes of grass and fascinating views on the Vestrahorn mountains, that's Stokksnes beach. When you are walking on the beach, you will truly feel like you are on another planet. The dunes are quite unique to this location and make it a fascinating spot. Just be aware that Stokksness Beach is private, so there is a small entrance fee to pay to enter the area. (at the Viking Cafe)
LOCATION
Stokksness Beach, Vatnajokull National Park
WHERE TO STAY NEAR STOKKSNES BEACH
Hrafnavellir Guest House (20-minute drive from Stokksness Beach)
8. Námaskarð geothermal area
Námaskarð is a geothermal area on the Ring Road nearby lake Mývatn and such a fascinating place. The area doesn't have any giant geysers but is still very volcanically active. The scenery with bubbling mud pools and colored sand makes you find yourself walking on a different planet. Go in the late afternoon for an even more magical atmosphere.
LOCATION
Námaskarð
WHERE TO STAY NEAR NAMASKARD
Fosshotel Husavik (50-minute drive from Námaskarð)
9. Mývatn Nature Baths
A place we had never heard about before, but so glad we added this on on our Iceland itinerary! The Mývatn Nature Baths have also been called the "Blue Lagoon of the North". Compared to the Blue Lagoon, you don't need to make any reservation in advance and are less crowded too. The best time to visit Myvatn is in the evening just before sunset. Lovely experience!
LOCATION
Mývatn Nature Baths
WHERE TO STAY NEAR MYVATN
Fosshotel Husavik (50-minute drive from The Mývatn Nature Baths)
10. Snæfellsnes peninsula
If you are searching for a unique place in Iceland that has everything Iceland has to offer and that feels untouched, you should go to Snæfellsnes! There is so much to see and do on the Snaefellsnes peninsula, that you could spend a whole week without seeing the same thing twice. It has the most diverse landscapes in Iceland, with waterfalls, beaches, cliffs, mountains, lava fields, and charming villages. A truly magical place!
LOCATION
Snæfellsnes peninsula
WHERE TO STAY NEAR SNAEFELLSNES PENINSULA
Icelandair Hotel Hamar (1h50-minute drive from Snæfellsnes peninsula)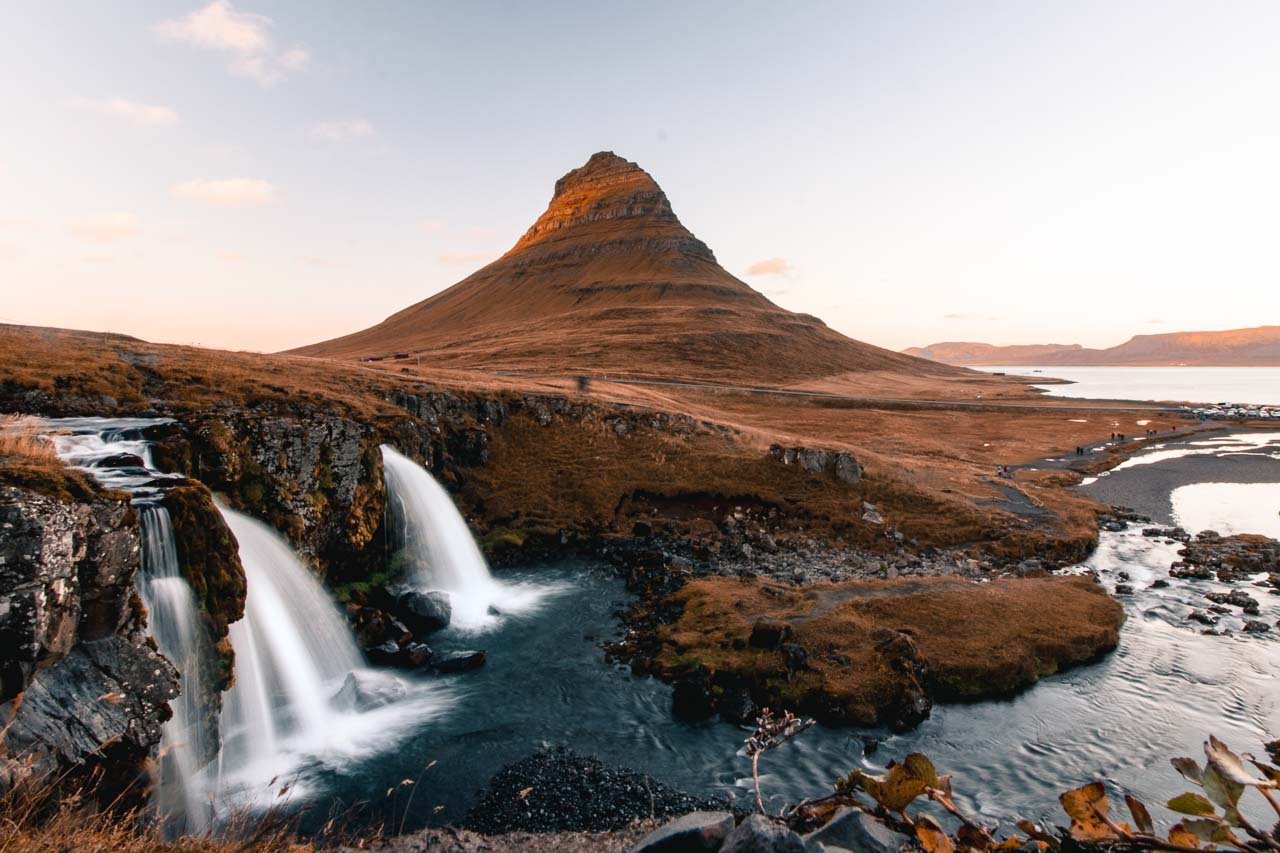 Find the most beautiful places in Iceland with our travel resources
As you know, we love to share all our best tips and favorite places with all of you. That's why created all these online travel guides, which are completely free. If you found this post (or anything we do) useful, we'd be grateful if you buy something through one of our affiliate links in this article. We'll get a small commission at no extra cost to you, which helps us keep our travel blog alive.
Thank you so much for your support! x Valerie & Mik
DO YOU LIKE THIS POST? PIN AND SHARE IT.