Many tourists go to Hurghada every year for a relaxing holiday and the warm weather but actually, there are so many more things to do in Hurghada than just relaxing. The history of Ancient Egypt was one of the greatest civilizations and nowadays, Egypt has the best diving spots in the world. In this article, we share 6 amazing things to do in Hurghada.
Read also:The 11 best and free travel apps every traveler needs
Where to stay in Hurghada?
Enjoy a sunset Quad Safari
Driving with a quad through the beautiful desert of Hurghada was an awesome experience! We visited a Bedouin village and enjoyed a spectacular Arabic show in the evening. At the end of the day, we got rewarded with the most amazing sunset in an ocean of sand. We really enjoyed this tour as it was one of our favorite things to do in Hurghada.
COST
Tours start from $25
BOOK
The quad safari & Bedouin village tour can be booked here
Diving in the Red Sea of Hurghada
The Red Sea in Egypt is one of the best places for diving in the world. We recommend Dive More Group located in Pharaoh Azur Resort in Hurghada because they provide new dive gear and have a very experienced crew and very reasonable prices. In the morning we left to the harbor of Hurghada where we entered the amazing boat of Dive More and after a 30-min ride we were ready for our first dive. During our dives, we saw many eel fish, sea stars, sea cucumbers, even an octopus and if you are lucky you can see some dolphins passing by too.
COST
Diving in the Red Sea starts from $30 per dive
BOOK
Contact Dive More Group to get the best rates for your dive trip
Join a liveaboard in the Red Sea
Diving in the Red Sea is an amazing thing to do in Hurghada but joining a liveaboard and discover more remoted dive sites makes it an unforgettable experience. Liveaboards are all-inclusive diving trips, most of the time one week, which includes luxury accommodation, all your meals, and several dives a day with qualified dive instructors. Something that's still on top of our bucket list.
COST
Liveaboard prices vary from $60 – $200+ a day
Enjoy and relax at the pool of your resort
Temperatures in Egypt can easily rise up to 40 degrees in summer and the best way to cool down is to take a plunge into the pool of your hotel. Many resorts in Hurghada have also a waterpark, we love to spend some time here and rushing down all those waterslides. We stayed at Desert Rose Resort in Hurghada which had a few pools and a waterpark to have some fun at.
COST
Hotel prices in Hurghada start from $20/night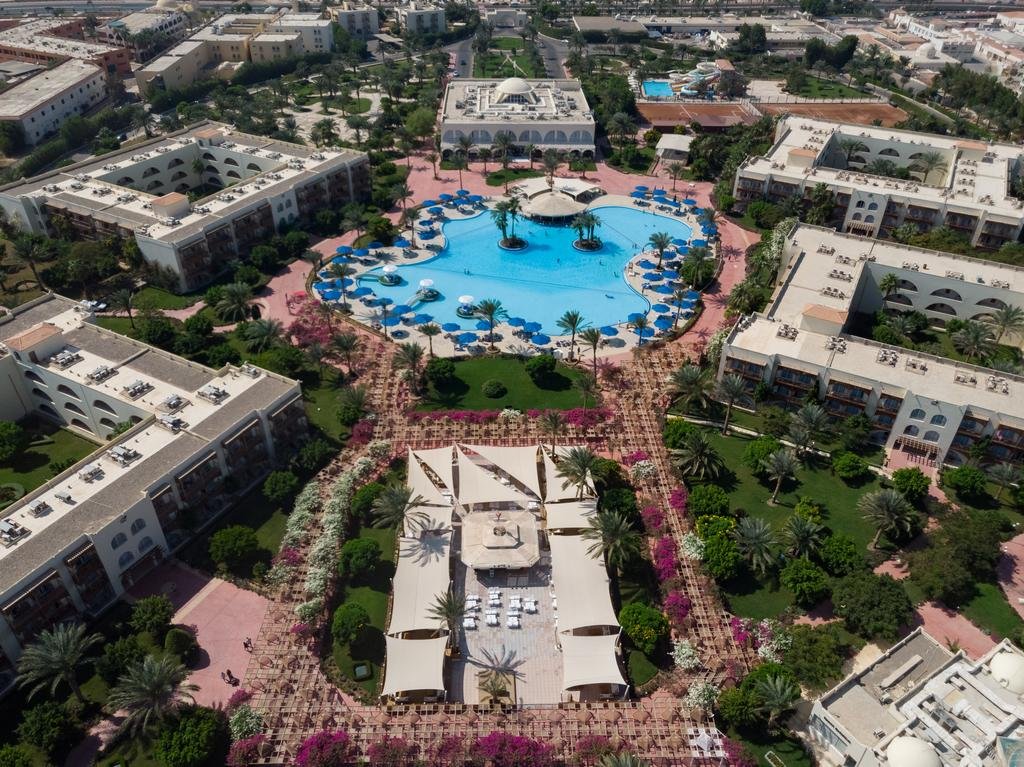 Snorkeling at Giftun Island
Giftun Island is the largest island in the Red Sea and located a 30-min boat ride from Hurghada. It's the perfect place for snorkeling and exploring the beautiful underwater world of Egypt. Once we arrived at the beach we couldn't believe how beautiful it was! The water was so clear and the coral was so colorful, just like a real paradise (except the many tourists on the island), make sure you explore the reef on the east side of the island.
COST
Many tour operators offer day-trips to Giftun and prices start from $20
BOOK
We recommend booking this Giftun Island snorkeling trip
Visit the Pyramids of Giza & the Egyptian Museum
Visiting the Pyramids of Giza is something that was on our bucket list since we were kids and during our trip to Hurghada, we knew we want to see these amazing ancient man-made creatures. We left early in the morning with the bus to Cairo, where we first stopped at the Egyptian Museum to learn more about Egypt as the museum is home to the largest collection of ancient Egyptian artifacts and antiques. Afterward, in the afternoon we went to the Great Pyramids and Sphinx where you can ride a camel or buy some souvenirs but we found it more like a tourist trap.
COST
Tours to Cairo and Giza are around $75-$90, keep in mind that the museum charges extra fees for cameras. The museum ticket price was around $7 (Included in our tour) and the camera fee $3 (not included in our tour)
BOOK
a full-day tour to the Pyramids and the Egyptian Museum with the bus from Hurghada here or by plane with this small-group tour from Hurghada
Now you've read the most amazing things to do in Hurghada, you might be ready to go. The following websites can help you plan the perfect trip:
Do you want to remember this article to read it at another moment?
Pin it on Pinterest for later.