Indonesia is by far one of our most favorite destinations in the world. It's an amazing country full of stunning landscapes, incredible nature, friendly people, heavenly food and the most beautiful islands. But with more than 17000 islands to choose from, there are some we love to visit again and again… Bali and the Gili islands! We created the best 3 weeks in Bali itinerary based on our multiple times backpacking in Indonesia. This article is also perfect to help you plan a 2 week Bali itinerary if you haven't that much time. To help you visualize this Bali in 3 weeks itinerary we've put it together on a map as well.
Read also: Travel budget for 3 weeks in Bali
Tip: if you are traveling solo or would like to join an organized trip, definitely check this website. They have really great adventure tours through Indonesia. Super cool!
Backpacking in Indonesia: the best 3 weeks in Bali itinerary
START Denpasar | END Denpasar
DURATION 21 days
METHOD OF TRANSPORT Scooter, Taxi + Boat
BEST TIME OF YEAR June – October
WHEN DID WE GO July & August 2019
HIGHLIGHTS Canggu, Ubud, Gili Islands, Nusa Penida, Nusa Lembongan, Uluwatu, Munduk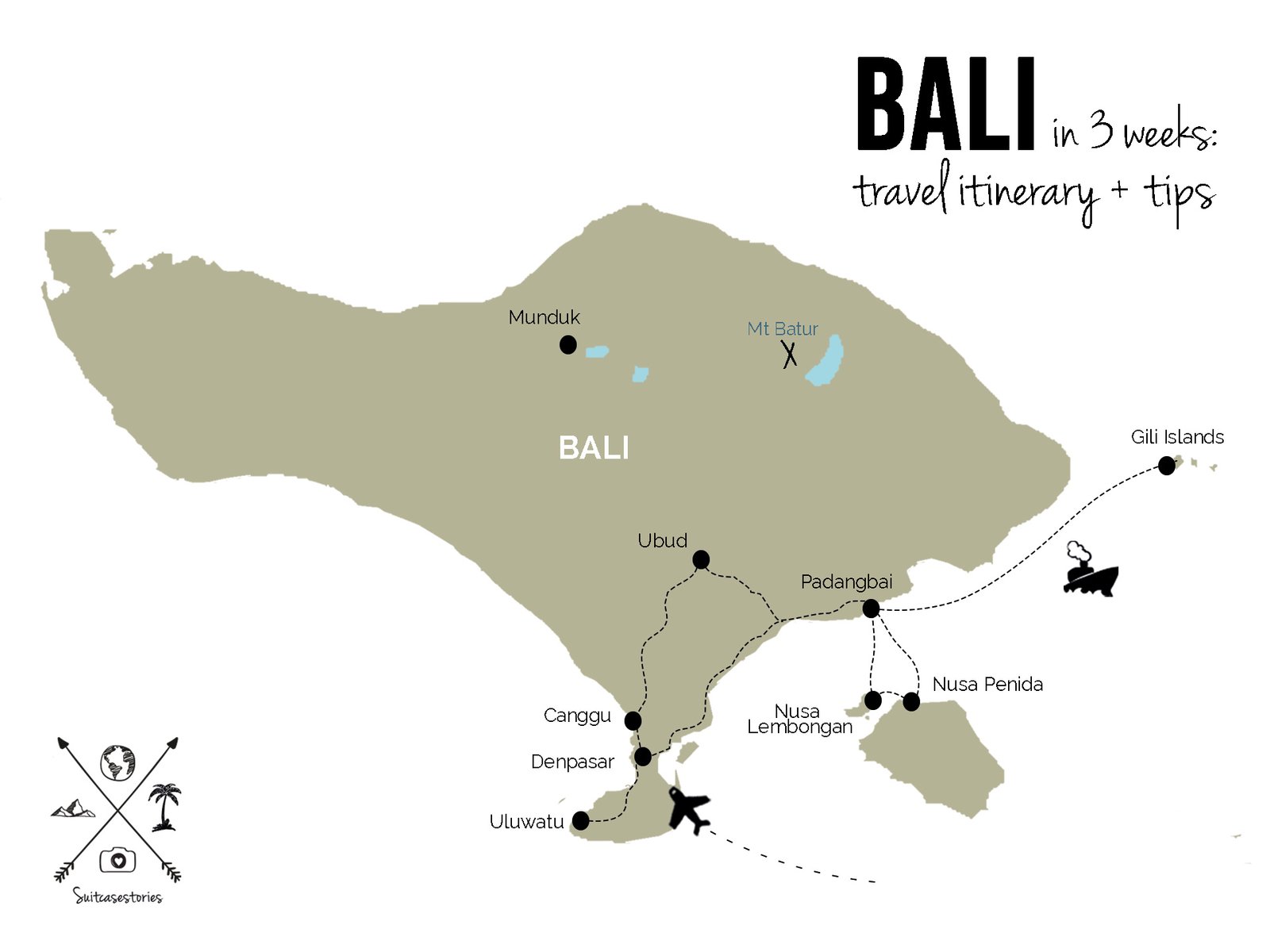 Canggu
The perfect place to start the 3 weeks in Bali itinerary is in Canggu, one of the hippest and most relaxed villages in Bali. It's located on the west side of the island, only a 40-minute drive away from Denpasar International Airport. Chill out at one of the amazing beach clubs, have the best smoothie bowls, learn to surf, stroll through the bohemian markets, visit stunning ricefields or join some yoga classes… the list is endless! You can stay for weeks in Canggu without getting bored. Our favorite go-to place in Bali!
Recommended stay
Where to stay
Things to do
Where to eat
How to get in Canggu
Ubud
Ubud is a wonderful village, located in the center of Bali surrounded by the most beautiful rice fields and impressive nature scenes. From white water rafting, visiting waterfalls, hiking volcanoes to cooking classes, and meeting monkeys, there is so much to do in Ubud. Same as Canggu, Ubud is a place where you could easily spend a week without getting bored and must be in everyone's Bali travel itinerary.
Recommended stay
Where to stay
Things to do
As there are so many things to do around Ubud we decided to write a dedicated article about all the best things to do in Ubud.
Where to eat
How to get in Ubud
From Canggu, by taxi (best via Grab or Gojek app), 1-hour from Ubud, prices are around IDR 300,000/one-way
Munduk
If you prefer to do see more in Bali, be sure to add Munduk on your list. Munduk is located a 1-hour drive from Ubud, and a great place to relax and explore all the beautiful places in the north. From stunning waterfalls to photogenic Bali swings, and scenic temples, Munduk has it all. And if you like to treat yourself for a few nights, stay at the beautiful Munduk Moding Plantation Resort. The infinity pool, the views, and the surrounding will blow your mind! Enough reasons to add Munduk on your list, right?
Recommended stay
Where to stay
Things to do
Gili islands
Time to hop on a speedboat and go to one of the three small islands located between Bali and Lombok: Gili Trawangan (or Gili T like they say), Gili Meno, and Gili Air. Crystal-clear blue waters, white beaches, cozy bean bags on the beach, and incredible sunsets…  The Gili's are the perfect stop to relax after days of exploring and adventure during your 3 weeks in Bali itinerary.
With only bikes to get around the islands and a wonderful relaxed atmosphere, we bet you'll love to stop here. If it's your first time you go to the Gili's, we highly recommend Gili T. It's the most crowded islands but still relaxed and there are plenty of things to do which we describe below. If you like to stay more on a super quiet island, choose Gili Meno instead. Or if you like a good mix of both, Gili Air might be the best option for you.
Recommended stay
Where to stay
Things to do on Gili T
Rent a bicycle and explore the island (around IDR 45.000 for a full day)
Go snorkeling and swim with sea turtles or at the underwater sculptures of Gili Meno  (IDR 600.000 for a private boat which you can share with others, 3-4 hours)
Complete a dive course (fixed prices on all the Gili islands, starts from IDR 5.900.000 per person for a 3-day PADI Open Water Course, our favorite Dive Center on Gili T is Trawangan Dive Resort where we completed our own PADI Advanced Course)
Watch the sunset on the west side of the island and get some pictures at the famous swings
Get a massage on the beach (prices starts around IDR 150.000 per hour)
Have a night out and enjoy some drinks in the many cozy bars
Watch a movie on the beach (Le Pirate & Villa Ombok organizes frequently open-air movie nights)
Visit Gili Meno or Gili Air on a day trip (public boats run 2 times a day, IDR 35.000 per person)
Book a fun dive around the Gili islands if you are already a certified diver
Where to eat
How to get on the Gili Islands
Nusa Penida
When you visit Bali, you can't miss the beautiful island of Nusa Penida! We only visited this island after our third visit to Bali, which is a shame. Nusa Penida is still quite a remote island and has many adventurous things to do. Huge cliffs, incredible ocean views, amazing beaches, and breathtaking landscapes… that's how we can describe Nusa Penida the best! And ow yeah, it's also a famous place to swim with the manta rays.
Recommended stay
Where to stay
Things to do
Enjoy the best views at the famous Kelingking 'T-Rex' viewpoint and hike down the scary steep stairs to Kelingking beach
Visit Broken Beach and Angels' Billabong with low tide (we did in the morning, but be sure to check this)
Join a snorkeling trip an swim with the giant manta rays at Manta Point.
Hike down the stairs of Diamond Beach in the morning (in the afternoon it's totally in the shadow) and enjoy a swim in the ocean
Get some beautiful shots with sunrise or sunset at the Rumah Pohon Treehouse (you can even spend the night here, quite basic but unforgettable views straight from your bed. But be quick with booking as it is booked out months in advance! Check prices and availability here)
Enjoy more epic views at Banah Cliff, Thousand Island, and Pulau Seribu Viewpoint
Hike the famous blue stairs to the Peguyangan waterfall
Relax at Crystal Bay Beach
Take a driver for a full day to explore the whole island and visit all the highlights (we paid IDR 750.000 for a full day with 4 persons)
Nusa Penida can be visited in a day-trip from Bali but if you have the time spend at least 2 days on this beautiful island.
Where to eat
How to get in Nusa Penida
From the Gili islands, by fast boat, 1 stop in Bali to pick up/drop off other passengers, 2-3 hours, prices are around IDR 400.000 per person (we highly recommend Eka Jaya Fast Boats as a company) Check schedules and prices here.
From Bali, by fast boat, 30 minutes, prices are around IDR 220.000 per person. Check schedules and prices here.
Nusa Lembongan
If you like relaxing at beautiful islands, include an extra stop in Nusa Lembongan too. We visited Nusa Lembongan the first time we went to Bali and loved it. It's super easy to get to from Nusa Penida and only 30 minutes away from Bali. Nusa Lembongan has a more laid back and relaxed atmosphere than it's big sister Nusa Penida. It's also an amazing place for snorkeling or diving with the Mola Mola (bucket list!), surfing, or enjoying stunning sunsets at the beach. Worth a visit, even for one day!
Recommended stay
Where to stay
Things to do
Rent a scooter and explore the island (around IDR 70.000 for a full day)
Cross the Yellow Bridge to Nusa Ceningan
Visit the beautiful mangrove forest
Join a snorkeling trip and swim with manta rays (around IDR 350.000 per person)
Dive with the amazing Mola Mola fish (the best season is between July and November)
Relax at the secluded beach of Sandy Bay
Hang out or have lunch at the relaxed beach of Mushroom Bay
Watch the sunset at Devil's Tear
Where to eat
Bali Eco Deli (great breakfast and lunch spot with lots of healthy vegan/vegetarian options, yummy smoothie bowls, salads, and juices)
Sandy Beach Club (a great spot for dinner, lovely setting with stunning views and a wide menu with great vegan options)
Ginger & Jamu (favorite spot for lunch/dinner, amazing sunset spot, best salads & smoothie bowls, healthy food, relaxed setting on the beach)
How to get in Nusa Lembongan
Uluwatu
The last stop of our 3 weeks in Bali itinerary ends in Uluwatu, which is located on the southern tip of Bali. Uluwatu has the most beautiful beaches in Bali, super laid-back with impressive cliff viewpoints, trendy restaurants, and many beach clubs to relax at. Uluwatu is also known for its epic surf spots and the Uluwatu Temple where you can watch a traditional Kecak fire dance. We love Uluwatu as there are so many great things to do and you can easily explore them on yourself by renting a scooter. In other words, the perfect place to end your Bali trip with.
Recommended stay
Where to stay
Things to do
Rent a scooter and explore all the nearby beaches like Suluban Beach, Thomas Beach, Padang Padang, Bingin Beach, and Tegal Wangi Beach.
Visit the Uluwatu Temple in the afternoon and watch a traditional Kecak fire dance just after sunset inside the complex (entrance fee for the temple is IDR 30.000 per person and IDR 100.000 per person for the Kecak dance. We highly recommend buying tickets in time as it sells out quickly.
Take a surf lesson and surf the epic waves.
Go with sunset to Karung Boma Cliff, an epic spot to take some beautiful shots (still on our list with things to do!)
Or Balangan Viewpoint, also a great spot with sunset.
Where to eat
How to get in Uluwatu
Go backpacking in Indonesia with the best 3 weeks in Bali itinerary and our travel resources
As you know, we love to share all our best tips and favorite places with all of you. That's why created all these online travel guides, which are completely free. If you found this post (or anything we do) useful, we'd be grateful if you buy something through one of our affiliate links in this article. We'll get a small commission at no extra cost to you, which helps us keep our travel blog alive.
Thank you so much for your support! x Valerie & Mik
DO YOU LIKE THIS POST? PIN AND SHARE IT.