Want to hike the Himalayas and experience the unique Nepalese culture within a short period of time? Hike the Poon Hill Trekking in Nepal! This short trek is relatively easy, comfortable and can be done in 4 days. The Poon Hill Trekking in Nepal is a unique experience that should be on everyone's bucket list! Read here everything you need to know, what to pack and other useful tips for hiking the Poon Hill Trek yourself.
Read also: The best 3-week Nepal itinerary + tips
Where to stay in Nepal?
The Poonhill trekking in Nepal is located in the Annapurna region and Pokhara is the best place to stay before and after your trekking in the Annapurna mountains. The town of Pokhara has many restaurants, bars and shops to buy or rent your trekking gear. We loved to wander around and explore the lakeside during sunsets.
During our Poonhill trekking in Nepal we stayed in teahouses or small lodges owned by local families and recommended by our guide. If you go without a guide we can recommend to call the teahouses in advance as they will be fully booked in the peak season. Before and after the amazing Poonhill trekking we stayed at Karuna Hotel in Pokhara.
Why the Poon Hill Trekking in Nepal?
The Poon Hill Trekking in Nepal is the best and most famous short trek in Nepal. It's a great choice for everyone that wants to experience epic views of the Himalayan mountains within a short period of time. Compared to the famous Annapurna Circuit Trek and Everest Base Camp Trek, the Poon Hill Trek can be done in 4 days/3 nights and gives you a great taste of what trekking is like in Nepal.
The Poon Hill Trek can be done by everyone with a reasonable fitness level. (We even saw families with small children doing the trek) The maximum elevation is 3,210 meters which means there is almost no chance of altitude sickness.
Last but not least, the views… Wow! The sunrise wake-up call to the summit of Poon Hill was absolutely the highlight of the whole trekking. Seeing 3 summits of the 14 highest mountains in the world from one viewpoint… Speechless!
Getting to Poon Hill
Poon Hill is located in the Annapurna region and the trek starts from the lovely town of Pokhara. If you're coming from Kathmandu you can take the tourist bus which is the cheapest way. (around Rs 800 ($7) per person,7-9 hour bus ride) Another way to get in Pokhara is by taking a short 25-minute flight (with for example Yeti Airlines) but will cost you around $80 per person. As soon as you arrive in Pokhara, we recommend you to stay at least 1 night before starting the trek.
Check here our favorite places to stay in Pokhara: Where to stay in Nepal: the best hotels
The day you leave for your trekking you need to continue your way to Nayapul, which is the starting point of the Poon Hill Trek. We booked everything with a guide and had our transport included. (1,5-hour ride) If you want to hike Poon Hill yourself, you need to take the local bus which costs you around Rs200 ($1,7) but can take up to 3 hours + the road to Nayapul is really bad. So if your budget allows, you better consider booking a private or shared transfer from Pokhara to Nayapul which costs around $25 per jeep.
Best time to hike the Poon Hill Trek
The best time to hike the Poon Hill Trekking in Nepal is between September – November (Autumn, the period we went too) and March-May (Spring). During these periods you'll have comfortable temperatures, the most chance for clear skies and best views. These periods are also the peak seasons for hiking in Nepal, so prepare yourself for more crowds.
Good to know: the weather is really changeable in the Himalaya mountains and you can easily experience all four seasons in one day. So prepare yourself and take enough warm layers and a rain jacket with you.
The Poon Hill Trek: with or without a guide?
Hiking the Poon Hill Trekking in Nepal can be perfectly done by yourself, nevertheless, we recommend booking your trek with a guide. Not only everything is organized from permits to accommodation, but you also support the local economy of Nepal. And above all, you'll feel so much more confident by hiking on the right trails and meanwhile learning more about the culture.
Out of the several tour companies in Nepal, we ended up booking our guided trek with Ethical trekking, which is based in Pokhara town. We found this company by passing by and Krishna, the owner, helped us with literally everything. Together with Bipin our guide, we had an unforgettable and amazing time in the mountains. We can't recommend them enough!
If you like to book your trekking in Nepal in advance (which we highly recommend during the peak seasons), you can check out one of our favorite guided tours here:
How much does the Poon Hill Trek cost?
The Poon Hill Trek is not only the best short trek in Nepal but also a very affordable one. We paid Rs 19.600 ($172) per person, including:
transport with a jeep from Pokhara to Nayapul
ACAP + TIMS permits (there are 2 different permits you'll need to do the trek)
guide for the full 4 days
3 nights in comfortable (basic) teahouses
breakfast, lunch & dinner + tea-coffee breaks along the way
entrance for the Poon Hill Sunrise Viewpoint
transport with a shared jeep from Kimche to Pokhara
Read also: Budget for 3 weeks in Nepal: our costs & expenses
The Poon Hill Trek: our 4 day/3 night itinerary
Let's start by saying that the Poon Hill trek can be done in 3 days if you return the same way as you go up. We did it in 4 days and 3 nights, which we recommend more. This way you won't experience any rush and you have enough time to enjoy all the beautiful landscapes along the way. And if you have more time, you can choose to combine it with other treks in the Annapurna region such as the Annapurna Base Camp Trek or the more hidden Mardi Himal Trek. (which we also did)
Day 1 of the Poon Hill Trek – the heaviest part
Wake up call: 7 am. After breakfast, we left our backpacks safely at the storage room of Karuna Hotel (which is free if you stay there before) and drove for 1,5 hours by jeep to Nayapul where the trek started. The first 30 minutes we hiked on a dirt road until we reached the suspension bridge and different checkpoints where we needed to show our ACAP and TIMS permits. After the checkpoint, the trail went only upwards with very steep steps from Hile to our final stop Ulleri. The whole trek, we had beautiful views and passed different small villages where we stopped to have some lunch. We finally reached Ulleri after 4-5 hours of hiking.
In summary:
starting point: Nayapul (1015m)
finish point: Ulleri (1950m)
distance: ~14km
time: 4-5 hours
accommodation: Curious Camels
Day 2 of the Poon Hill Trek
Wake up call: 6.30 am. We left early enough to avoid rain showers, which are common, in the afternoon. The trail to Ghorepani was almost everywhere well maintained although we did come across some landslides where we had to be very careful. The hike started through beautiful Rhodendron forest and passed some small rivers and waterfalls along the way. We finally arrived in the charming village of Ghorepani just before lunch where we had a cosy room with a warm shower (so happy we could take a shower again), put on our comfy thermal leggings and ordered some delicious traditional food. Our favorite meals during the trek were definitely the momos (steamed dumpling with vegetables) and the vegetable thukpa noodle soup.
In summary:
starting point: Ulleri (1950m)
finish point: Ghorepani (2860m)
distance: ~11km
time: 4 hours
accommodation: Nice View Lodge
Day 3 of the Poon Hill Trek – the highlight
Wake up call: 4.30 am. We took our down jacket, went outside to check if we could see the stars, and started our steep ascent to the famous Poon Hill. After 45 minutes we reached the top and waited until the sun started to rise and lighted up the stunning Himalayas. We could see some of the largest mountains in the world, including Dhaulagiri (8167m), Annapurna I (8091m), Tukuche (6920m), Nilgiri (2637m) and the holy mountain Machhapuchhre (6993m). Such an unforgettable moment! After a couple of hours enjoying the views, we hiked back down to our guesthouse to have some breakfast, stretched our legs for an hour and then continued our way to Tadapani. The whole day was beautiful with stunning views, some steep parts where we needed to ascend again but overall an easy hike through beautiful forest.
In summary:
starting point: Ghorepani (2860m)
finish point: Tadapani (2670m)
distance: ~18km
time: 4 hours
accommodation: Panorama Point
Day 4 of the Poon Hill Trek
Wake up call: 6.30 am. On the last day of our Poon Hill Trek, we woke up with a super clear morning and stunning views of the holy mountain Machhapuchhre and Annapurna South which made it hard to leave. The way down, we passed some waterfalls and had amazing sceneries the whole time over rice fields and small cute mountain villages. After 4 hours we finally reached Kimche, where we took a shared jeep with 3 other hikers back to Pokhara. (took us around 3 hours) In the late afternoon, we finally arrived back at our hotel. We ended the whole trip with a lovely dinner and looked back on our amazing time in the mountains. Lovely!
In summary:
starting point: Tadapani (2670m)
finish point: Kimche (1750m)
distance: ~12km
time: 4-5 hours
accommodation: Karuna Hotel in Pokhara
What after the Poon Hill Trekking in Nepal?
The best thing you can do after hiking in Nepal is simply relaxing. Give your legs a rest and don't do anything too intensive anymore. We stayed 1 extra night in Pokhara and the day after we continued our journey to the beautiful Chitwan National Park where we went on a safari. You could also make your way back to Kathmandu and explore Nagarkot or Bhaktapur.
Check here our 3-week travel itinerary through Nepal for some inspiration on what you can do afterward.
Packing List for the Poon Hill Trek
We can't recommend enough to take only the most necessary things during the trek and to travel as light as possible. Your back will thank you later!
Note: we did the Poon Hill Trek without porters, but if you want you can book extra porters that carry all your bags which will cost you around $20/day.
Below we listed down all the things that we each took with us during the hike, all kept in our smallest backpack of Osprey:
Read also: Nepal: everything you need to know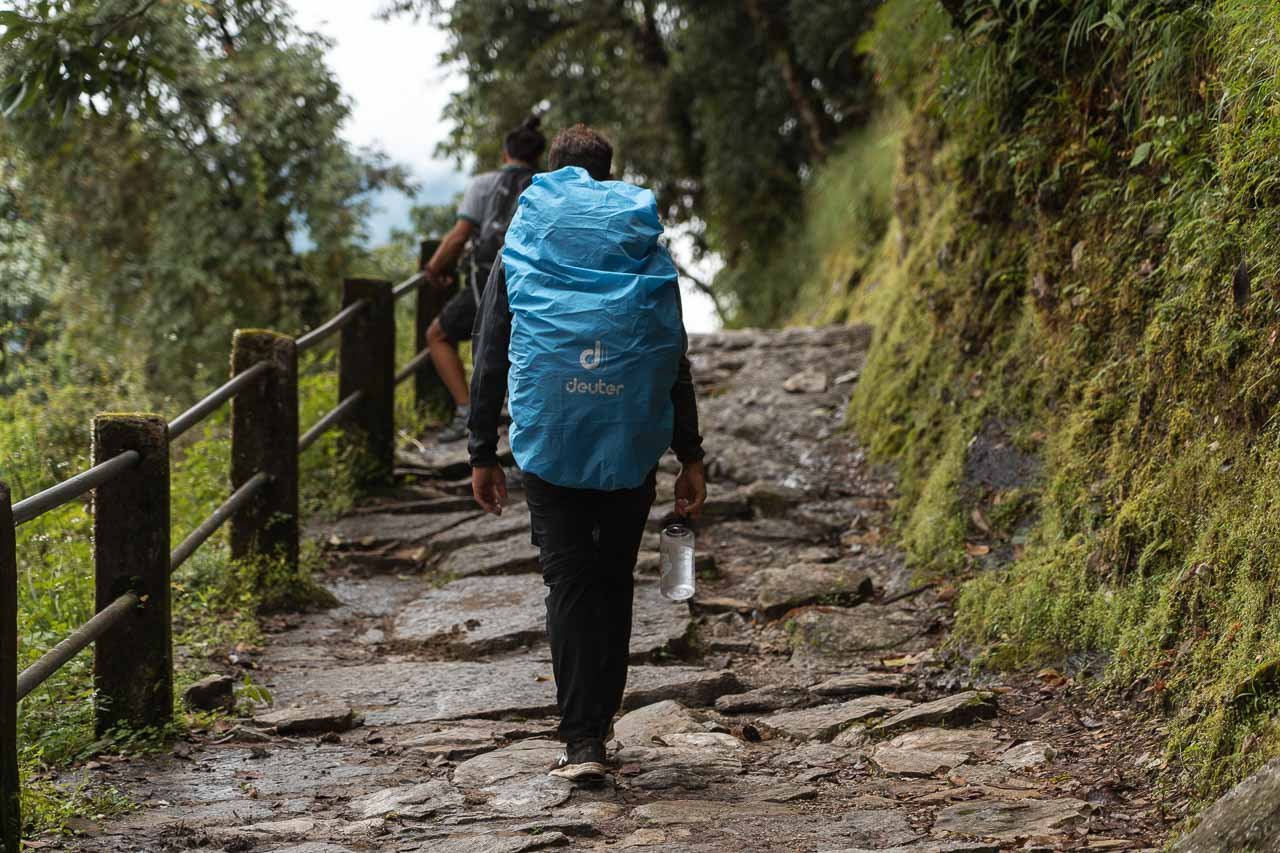 Now you've read everything to hike the Poon Hill Trek in Nepal yourself, you might be ready to go. The following websites we highly recommend can help you plan your trip:
DO YOU LIKE THIS POST? PIN AND SHARE IT.