Costa Rica is one of the most diverse countries we have visited so far and during our 2 weeks in Costa Rica itinerary, we discovered beautiful beaches, we walked through lush green jungles, we were swinging through dense rainforests, we met the friendly local people and we had the most fantastic experiences.
We understand why the word "Pura Vida" is used here for everything.
Costa Rica is definitely a country that everyone should visit and we hope our Costa Rica itinerary can help you to plan your trip.
How to get to Costa Rica
Costa Rica is located in Central America and it's easy to reach in different ways.
Our 2 weeks in Costa Rica itinerary started in San José, which is the capital of Costa Rica, and ended in Tamarindo. From Tamarindo, we went to Peñas Blancas were crossing the border from Costa Rica to Nicaragua.
Read also: 6 Best things to do in Granada, Nicaragua
By flight:
There are multiple daily flights from everywhere in the world to Juan Santamaría International Airport (SJO) in Costa Rica. We flew from Amsterdam (AMS) with KLM to Panama and then continued to San José as we found these tickets at a very cheap rate with Trip.com. We paid $700 for our return flights for both tickets.
By Car:
Costa Rica is a perfect road-trip destination as the roads are in quite good condition and it's very easy to drive around. During our 2 weeks in Costa Rica, we hired a car to explore the areas around La Fortuna, Monteverde, and Tamarindo and dropped off the car before crossed the border to Nicaragua.
By Bus:
There are many public buses operating from San Jose to the popular town in Costa Rica such as Manuel Antonio, Puerto Viejo or La Fortuna. We took the MEPE bus from Terminal de Autobus Atlantico Norte to Puerto Viejo de Talamanca for about 6000 colones ($11) per person.
It's also possible to travel to Nicaragua, Panama, or other countries in Central America with a coach bus. These are the most recommended companies and prices vary from $30 to $85 per person for a one-way ticket.
Where to stay in Costa Rica
Costa Rica has some of the most unique places to stay and a wide range of different accommodations. from simple hotels to the most luxury tree-houses. In this 2 weeks in Costa Rica itinerary, we stayed in some great places which are affordable, have a great location, and are comfortable.
These are our 3 favorite places in Costa Rica to spend a night
Read also: 12 x best places to stay in Costa Rica
The best time to visit Costa Rica
There are 2 seasons in Costa Rica, the dry season and the wet season. Both are great times to visit Costa Rica although the wet season makes it more challenging as many roads could be closed due to floods or heavy rains.
We planned our 2 weeks in Costa Rica itinerary in March and it was the perfect moment to explore all the destinations we wanted to see.
December – April: Dry season
The dry season runs from December till April with December and January as the busiest and most expensive months. almost no rainfall throughout the whole country although there could be some rain in the Caribbean Ocean of Costa Rica.
May – July: Shoulder season
This is probably the best month for backpackers as prices are low and there are a lot fewer tourists in Costa Rica. There is more chance of rains throughout the country but forest and jungles are green and lush
August – November: Wet season
The weather is very unpredictable and there will be lots of rain in the entire country. The Caribean coast is probably the best place to be at this time of the year although it rains quite often. Prices for tours and hotels are lower during this period.
The ultimate 2 weeks in Costa Rica itinerary
START San José | END Peñas Blancas (Nicaraguan border)
DURATION 14 days
METHOD OF TRANSPORT Bus + Rental car
BEST TIME OF YEAR December – April
WHEN DID WE GO March
HIGHLIGHTS San José, Cahuita, Manuel Antonio, La Fortuna, Monte Verde, Tamarindo


Day 1: From San Jose to Puerto Viejo de Talamanca
Our 2 weeks in Costa Rica itinerary started in San José where we arrived quite late in the evening, took a taxi to Selina Hostel San José and went straight to bed.
Because we only had 2 weeks in Costa Rica we decided to skip San José and we took the first bus to Puerto Viejo de Talamanca from the Terminal de Autobus Atlantico Norte on Calle 12 – Avenida 9.
The bus ride from San Jose to Puerto Viejo took about 5 hours and cost $11 per person. Once we arrived in Puerto Viejo de Talamanca e couldn't wait to explore the beaches and the cozy little town.
Day 2-4: Puerto Viejo de Talamanca
Puerto Viejo de Talamanca is an amazing beach town on the east coast of Costa Rica. It was the perfect place to start our 2 weeks in Costa Rica and to recover from our jetlag. In Puerto Viejo, we rented some bikes and drove along the coast to discover the hidden beaches and we visited the Jaguar Rescue Center which is a must-do when you come to this place.
Close to Puerto Viejo is the Cahuita National Park where you can snorkel and do some beautiful hikes. We spotted some wildlife as the cute sloths and monkeys in the trees.
Another great thing we loved about Puerto Viejo is that it's an amazing place to surf and it has incredible beaches. Some of our favorite beaches are Playa Chiquita, Playa Punta Uva, and Playa Manzanillo
Day 5-8: Manuel Antonio
On day 5 of our 2 weeks in Costa Rica, we took the bus from the Mepe Bus Stop in Puerto Viejo Town back to San José. Due to the bad traffic in San José, we arrived after more than 5 hours. We were completely exhausted and almost missed the connection with the next bus to Manuel Antonio, which left from another bus station. We grabbed a taxi to make sure we arrived on time.

The bus from San José to Quepos (Manuel Antonio) departed from the Terminal Tracopa on Calle 5 – Avenida 18, which is about 2,5km from Terminal de Autobus Atlantico Norte. Luckily we made it on time for the bus to Quepos (Manuel Antonio). This bus ride was about 3 hours and cost $9 per person. 
The bus arrived in Quepos which is the town before Manuel Antonio, where we had to wait for another hour to leave for Manuel Antonio. Finally, after a hectic day of 8 hours traveling we made it to our accommodation in Manuel Antonio, Selina hostel.
The next days we explored the Manuel Antonio National Park which is full of beautiful lush green jungles and right next to the Pacific Ocean. To get to the park we walked to the end of the beach and took the beach trail between the bars and restaurants that leads up the park entry gate. The entrance fee is about $16 dollar and the park is open from 7h till 15h from Tuesday to Sunday.
We walked around the park for a few hours and took some amazing photos of Playa Espadilla Sur and Playa Manuel Antonio at the Punta Catedral Lookout. Manuel Antonio National Park is very easy to get around as there is a wooden walking trail along the park.  This was definitely one of the highlights of our 2 weeks in Costa Rica.
On days 7 and 8 we explored the beaches and took our first surf lessons in Costa Rica. Never thought that surfing could be so exhausting! After our surf lesson, we watched the sunset on the beach with the guys from the surf shop and they made even an awesome bonfire. What a lovely experience!
Day 8-10: La Fortuna
From Manuel Antonio, we took the bus back to San José Airport, where we picked up a rental car. We decided to pick up the car at the airport as it was the easiest way to drive towards La Fortuna.
La Fortuna is the highlight for many travelers in Costa Rica. From exploring waterfalls, wandering in the jungles, crossing hanging bridges to hiking the Arenal Volcano and there is so much more to do around La Fortuna.
During our Costa Rica itinerary, we stayed at the Selina La Fortuna Hostel which is located close to the main square and center of the little town. In Fortuna we explored the Catarata Rio Fortuna waterfall, we hiked around in Arenal National Park, spotted some wildlife from the observatory tower, and find some hidden hot springs where we relaxed with the locals.
The Observatory Tower "The Nest" is part of the Arenal Observatory Lodge & Spa en definitely worth walking up if you are not afraid of heights. We spotted many tucan birds and monkeys in the trees which were just stunning!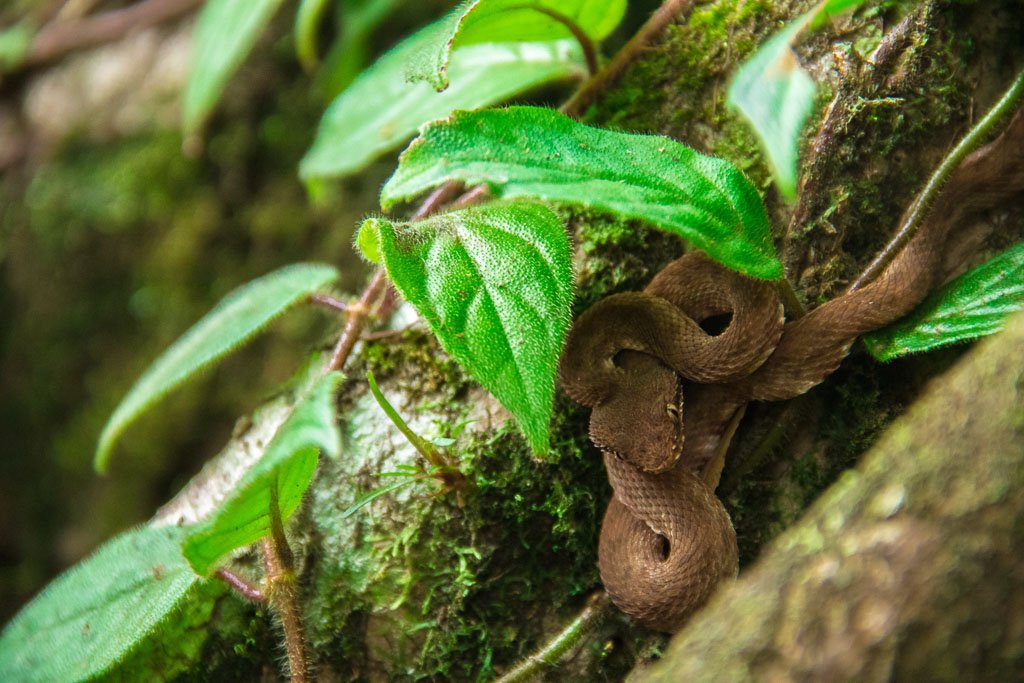 Day 10-11: Monteverde, Santa Elena
The next stop on our Costa Rica itinerary is the Monteverde cloud forest reserve. We drove with our rental car in about 4 hours around Laguna de Arenal to Santa Elena, which is the small village next to the Monteverde Cloud Forest Reserve. 
This mountain village is surrounded by cloud forests, jungles and it has some bars, shops, and restaurants, so a perfect place to explore for a few days. We decided to stay 2 days and do some awesome activities such as zip-lining, visiting the hummingbird gardens, exploring the cloud forest, and crossing the hanging bridges. 
If you have more time in for your Costa Rica itinerary we recommend staying longer as there is so much to do in the area. The Monteverde Cloud Forest Reserve is beautiful and unique as only 1% of the world consists of cloud forests.
Day 12-14: Tamarindo
Almost the end of our 2 weeks in Costa Rica Itinerary so we left early in the morning to drive to Tamarindo. We met some guys during the zip-lining in Monteverde who joined us on the 3,5-hour drive from Santa Elena to Tamarindo.
Tamarindo is a small town on the Pacific Ocean with a surf vibe and an easy-going atmosphere.  it was the perfect place to end our 2 weeks in Costa Rica itinerary while watching the sunset on the beach with a cocktail in our hands.
Day 15: Peñas Blancas (border of Nicaragua)
Actually, it's not really the end of our Costa Rica itinerary but on day 15 we drove to Peñas Blancas, which is the border between Costa Rica and Nicaragua. At the border, we dropped our rental car and walked across the border after we passed the security check.
If you are not going to Nicaragua, you can drive back to San José or another destination in Costa Rica.
Plan your 2 weeks in Costa Rica itinerary with our travel resources
As you know, we love to share all our best tips and favorite places with all of you. That's why created all these online travel guides, which are completely free. If you found this post (or anything we do) useful, we'd be grateful if you buy something through one of our affiliate links in this article. We'll get a small commission at no extra cost to you, which helps us keep our travel blog alive.
Thank you so much for your support!