Waterfalls, geysers, volcanoes, fairytale landscapes, and breathtaking sceneries at every turn. Welcome to Iceland! A road trip through this beautiful country is a once-in-a-lifetime experience! Are you planning a road trip in Iceland and looking for the best travel itinerary? Read on! Based on our own road trip in Iceland, we created the perfect Iceland in 10 days itinerary including the best things to do, places to stay, and the best time to visit Iceland. This Iceland itinerary covers all the highlights you need to see along the famous Route 1 Ring Road, making it perfect to spend 10 days in Iceland.
Read also: 10 most beautiful places in Iceland
Iceland in 10 days itinerary: an overview of our road trip in Iceland
START Keflavik | END Keflavik
DURATION 10 days in Iceland
METHOD OF TRANSPORT Camper van of Happy Campers
BEST TIME TO VISIT ICELAND June-Augustus (Long summer days) & December-February (Winter + Northern Lights)
WHEN DID WE GO we visited Iceland in September
HIGHLIGHTS Reykjavík, Blue Lagoon, Golden Circle, Stokksnes, Jokulsarlon Glacier, Husavik, Diamond Circle, Myvatn, Snaefelsness
10 days in Iceland in September: before you read on
Before you read on, we quickly want to mention that depending on what time of the year you are going, this Iceland in 10 days itinerary can take up to 2 weeks during winter. In winter (December-February), driving conditions can be quite challenging. With limited daylight hours (around 3 hours at the end of December) it's not recommended to travel long distances in the dark and roads may close down due to snowstorms.
If you're planning to go during winter which is the perfect period to spot the Northern Lights or you have less than 8-10 days in Iceland , you might be better off with this travel route: Iceland in 7 days itinerary: the best winter road trip
Are you ready to explore magical Iceland? Check the best flight deals to Iceland here.
When is it the best time to visit Iceland?
The best time to visit Iceland depends on what you want to do or see in Iceland. Camping in Iceland is possible all year round. Camping during the winter months has increased chances to view the Northern Lights, but it can be quite challenging. Most ideal months to go camping and driving the Ring Road are from June to September, when the days are longer and the weather is quite stable. This is also the period when you enjoy the sceneries and landscapes from early in the morning until late in the evening.
Winter: December to February
During this period, temperatures are extremely cold and roads could be dangerous or even closed. The days are short but you'll have spectacular sunrises and more chances to see to Northern Lights.
Read also: How to capture the Northern Lights in 8 easy steps
Summer: June to September
Green landscapes & pleasant temperatures to visit all the highlights during your road trip in Iceland, The days are long and in June they have a day called Midnight Sun, which practically means that it will not be dark for almost 24 hours. The perfect moment to spend even more than 10 days in Iceland.
A Road trip in Iceland with a camper van or rental car
If you've always wanted to travel with a campervan, make a road trip in Iceland! The roads are super easy to drive on, with one big main road known as the Ring Road or Route 1 and you can explore all the beautiful places on your own pace without booking anything in advance.
When we visited Iceland in September, we rented a camper van of Happy Campers, which is an extremely friendly family run business. We took the Happy 2 camper van and had everything we need for cooking and sleeping. Above all, we didn't need to fold up our bed every day and had enough space to store all our camera gear and warm clothes we'd brought with us.
Read also: Iceland with a camper van: everything you need to know
Day 1 – 2: Reykjavík
Travel distance: 49 km – 40min
We flew with WOW Air from Brussels to Keflavik Airport (KEF), where our road trip in Iceland started. From Keflavik Airport, it was a 40-minute drive to Reykjavík, which is the capital of Iceland. Along the way you pass the beautiful Blue Lagoon, which you could visit before going to Reykjavík. We did it on the last day of our 10 days in Iceland, see day 9-10 but the choice is yours!
Funny fact: Reykjavík is one of the smallest capital cities in the world where 2/3 of the Icelandic population lives!
Despite the fact that it is a small city, there are quite a lot of things to do where you can easily spend a full day with. We loved strolling around the idyllic streets, hopping into one of the cozy coffee bars, doing some window-shopping, and visiting the stunning Hallgrimskirka church. With the sunset we went to the waterfront to see the Sun Voyager sculpture, which is the best place to end your day in Reykjavík.
Recommended stay
Where to stay in Reykjavík
Things to do in Reykjavík
Watch the dancing colors of the Aurora Borealis during a Northern Light tour
Visit the Hallgrimskirkja church, which is possibly the most well-known landmark in the city
Explore the city on foot and stroll around the idyllic streets
Go window shopping in Reykjavik's most famous street, Laugavegur
Make a full tour to the Golden Circle
Hop from coffee bar to coffee bar and try the best hot chocolates
Enjoy sunset at the Sun Voyager sculpture
Walk along the Harpa concert hall at night for a beautiful light show
Hop on a Whale Watching tour
Day 2 – 3: The Golden Circle
Travel distance:  59 km – 50min
On our second day in Iceland, we drove from Reykjavík to Selfoss, which is the perfect base for exploring the Golden Circle. The Golden Circle is the most popular attraction in Iceland and can be done as a day-trip from Reykjavík but we highly recommend staying in this area for at least one night.
The main attractions on the Golden Circle are Thingvellir National Park (UNESCO World Heritage Site), the powerful Geysir geothermal area, and Gullfoss waterfall. If you have more time, there are plenty of hidden gems like Secret Lagoon and Kerid Crater which are definitely worth a stop too.
Recommended stay
Where to stay along the Golden Circle
Things to do
Day 3 – 4: Vík
Travel distance: 129 km – 1h 40min
From Selfoss, we drove to Vík, a small charming fishing village surrounded by impressive mountain landscapes. Here you'll find a big supermarket, some shops, a few restaurants, and a stunning black beach. Along the way you'll pass lots of highlights so be sure you leave early enough.
First we stopped at Seljalandsfoss, a beautiful waterfall and one of the most popular highlights in Iceland. After that, we took a cold swim in the Seljavallalaug pool, visited the Skógafoss waterfall, and had a 2 to 3-hour walk (4 kilometers from the parking lot) to see the abandoned Sólheimasandur plane wreck. During sunset we went to the Dyrholaey Lighthouse and had dinner at Sudur Vik restaurant, which has a lovely atmosphere and great food. The morning after we visited the black volcanic beach of Reynisfjara before we continued our trip.
Recommended stay
Where to stay
Things to do
Visit the Seljalandsfoss waterfall and walk up the stairs to go behind it
After visiting Seljalandsfoss, walk to the left for 10 minutes until you reach the hidden waterfall called Gljufrabui (right at the campsite)
Take a swim in Seljavallalaug pool, one of the oldest swimming pools in Iceland
Stop at Skógafoss, one of the biggest waterfalls in Iceland
See the abandoned Sólheimasandur plane wreck
Go with sunset to the Dyrhólaey Lighthouse for the most beautiful ocean views
Have a walk on the black volcanic beach of Reynisfjara
Hop on a super Jeep and visit the Secret Ice Cave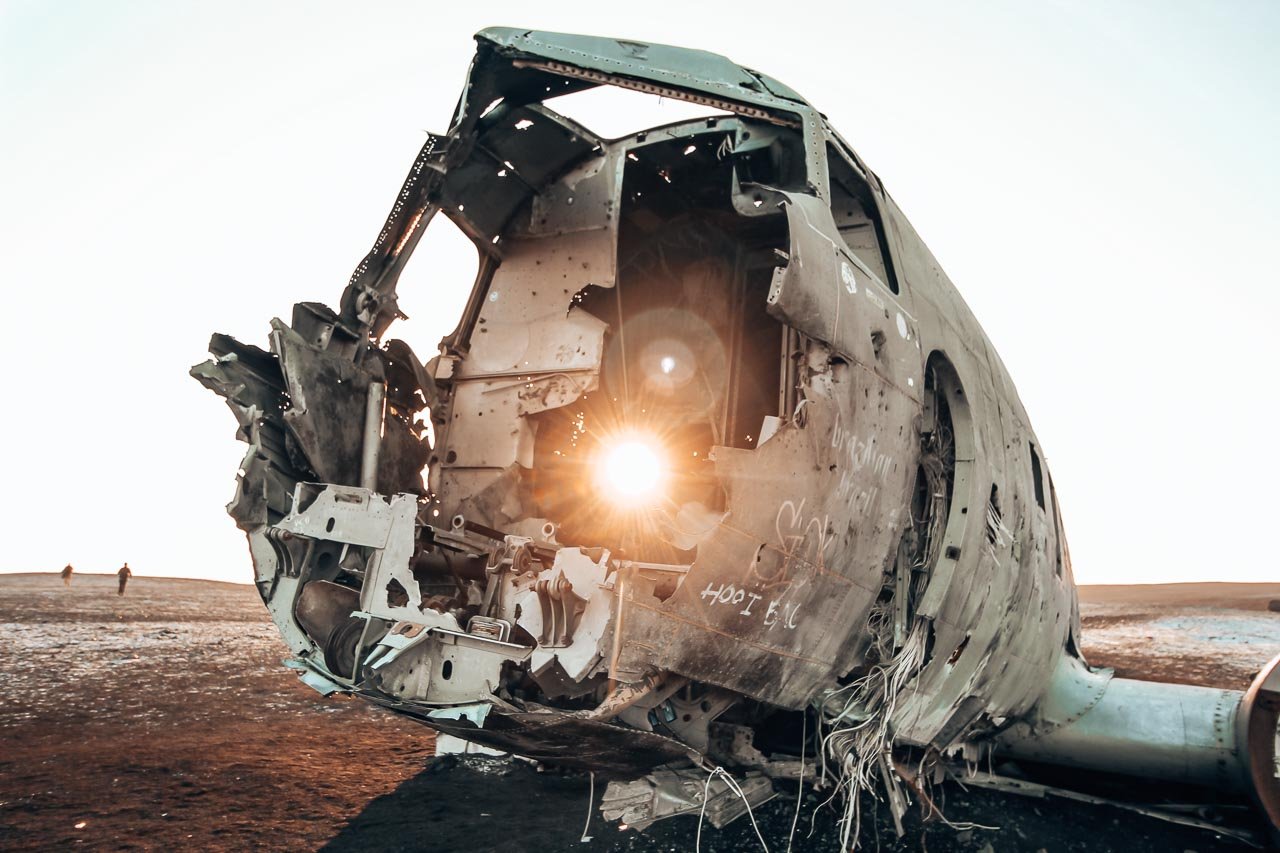 Day 4 -5: Jökulsárlón
Travel distance: 163 km – 2 hours 
After a morning walk on the black volcanic beach in Vík, we made our way to Jökulsárlón glacier lagoon. Along the way there are so many incredible places to visit, especially if you're into hiking.
Our first stop was the stunning Fjaðrárgljúfur canyon, which is only a small detour away from the Ring Road. Afterward, we continued our way to Skaftafell Nature Reserve where you can do lots of different hikes in the beautiful Vatnajökull National Park. We did a short hike to the beautiful Svartifoss waterfall, located about 1.5 kilometers or 45 minutes (one way) from the Skaftafell Visitor Center.
Skaftafell is also the place where you can experience the ice blue caves, do lots of glacier walks, try ice climbing and take a scenic flight over Landmannalaugar. Check all Skaftafell experiences and tours here.
After a night's sleep and a good breakfast, we went to the stunning Jökulsárlón glacier lagoon, which is one of Iceland's most beautiful spots. Across the road you'll find the black volcanic Diamond Beach, which you definitely need to see too!
Recommended stay
Where to stay
Things to do
Day 5 – 6: Egilsstaðir
Travel distance: 256km – 3h 47min
After visiting Jökulsárlón glacier lagoon and Diamond Beach, we zigzagged our way up along the East Fjords to the town of Egilsstaðir. We made a stop in Höfn first to see the Vestrahorn mountains and the extremely beautiful Stokksness beach. At Stokksness Beach we spotted dozens of Icelandic horses, which was a really beautiful view with the mountains in the background.
Egilsstaðir is a great place to stay for the night and buy new groceries at affordable prices in one of the great supermarkets like Bonus.
Recommended stay
Where to stay
Things to do
Day 6 – 8: Húsavík or Mývatn
Travel distance: 219 km – 2h 52min
On day 6, we drove to Mývatn where we joined the next morning a whale-watching expedition in Húsavík to see the biggest animals on earth from close. Seeing the big blue whales was such a memorable experience! We booked our whale-watching tour with Gentle Giants, which are in our opinion the best whale watching tours in Iceland to join.
Húsavík itself is a small fishermen's village and located 45 minutes from Lake Mývatn. If you choose to go camping, the best place to find a campsite is Mývatn. Do you prefer to stay in a hotel or guesthouse, go to Húsavík. Both are good locations to explore the Diamond Circle. Our favorite highlights were the Dettifoss & Goðafoss waterfalls and the stunning Námafjall Geothermal area. And in the afternoon, we went to Mývatn Nature Baths where you can relax and enjoy a breathtaking sunset from the geothermally heated pools. Amazing!
Recommended stay
Where to stay
Things to do
Day 8 – 9: Borgarnes
Travel distance: 387 km – 4h 39min 
Borgarnes was our last stop on our 10 days in Iceland itinerary before going back to Keflavik. From Borgarnes we explored the Snæfellsnes peninsula which was one of our favorite parts of our entire road trip in Iceland. Looking back, we wished we could have stayed here longer than only one day as there is so much to see and do.
If you only have one day like us, be sure to go to Kirkjufell, a very picturesque mountain in the Snæfellsnes peninsula and one of the Games of Thrones filming locations. Furthermore, we loved to climb up the Saxhóll Volcanic Crater and visit Arnarstapi, a fishing village with many great viewpoints. And ow yeah, the cute Budir Church is also a must-see!
Recommended stay
Where to stay
Things to do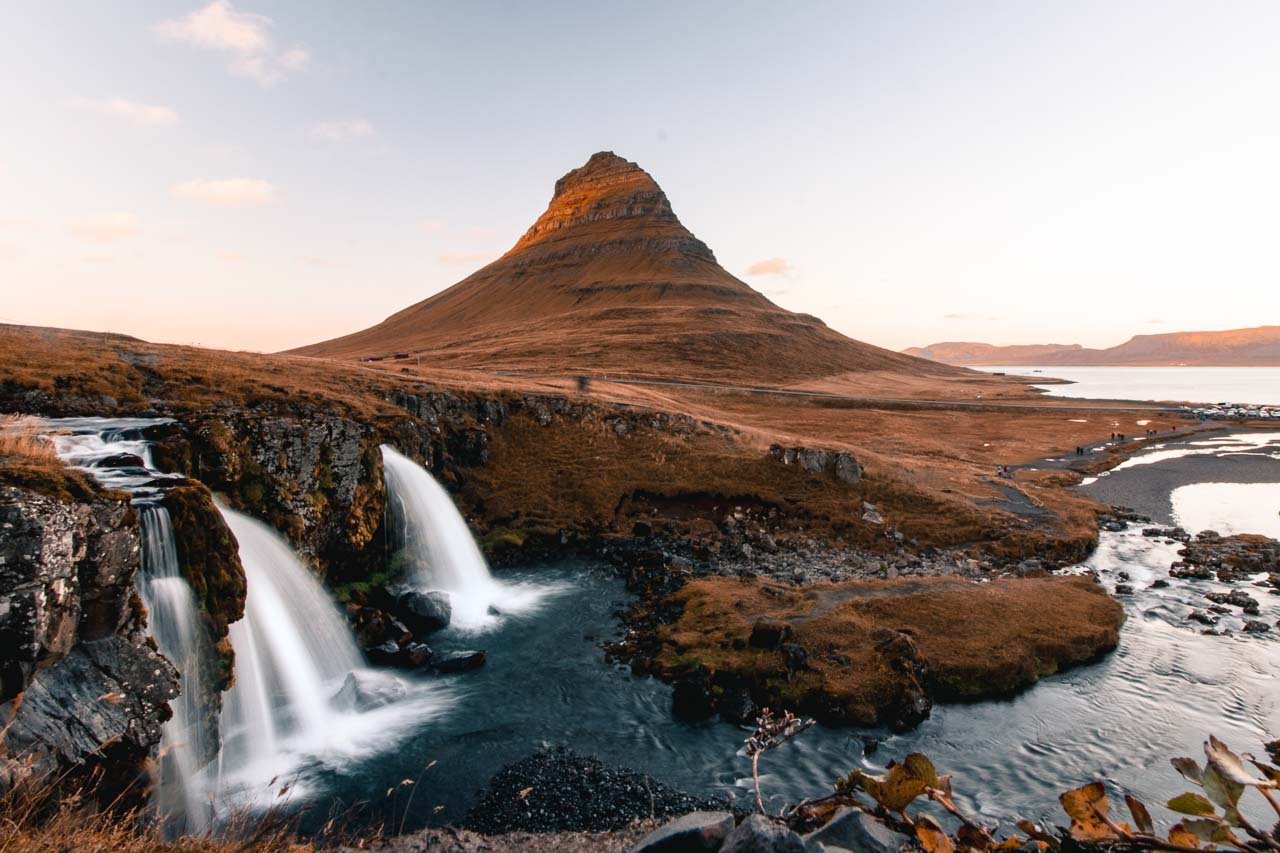 Day 9 – 10: Blue Lagoon
Travel distance: 116 km – 1h 33min 
On our last day of our road trip in Iceland we finally visited the amazing Blue Lagoon, which is only a 20-minute drive away from Keflavik International Aiport. The Blue Lagoon is the perfect place to relax in the warm, mineral-rich waters and look back on the incredible adventure you just have experienced. We booked our tickets to visit the Blue Lagoon in the late afternoon and delivered our campervan in the morning before our flight back home. 
Tip: you can also deliver your camper van or rental car the day before your flight, and book this Blue Lagoon entry ticket including round-trip transfers to your hotel in Reykjavik or Keflavik Airport. 
Recommended stay
Where to stay
Things to do
Plan your 10 days in Iceland with our travel resources
As you know, we love to share all our best tips and favorite places with all of you. That's why created all these online travel guides, which are completely free. If you found this post (or anything we do) useful, we'd be grateful if you buy something through one of our affiliate links in this article. We'll get a small commission at no extra cost to you, which helps us keep our travel blog alive.
Thank you so much for your support! x Valerie & Mik
DO YOU LIKE THIS POST? PIN AND SHARE IT.